Plastic rockwell hardness tester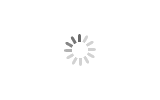 Plastic rockwell hardness tester
Brand :XIANGLI
Product origin :China
Delivery time :10 days
Supply capacity :1000
Product specification
Plastic rockwell hardness tester adopts motoring method, lts testing force can be loaded, kept and unloaded automatically, Avoid man-made error and easy to use. lt is therefore, welcomed by many users.
Usage Range: Hard plastics, hard rubbers aluminum, tin, copper, soft steel, synthetic resins, fricative materials, etc.
Technical Specifications
Rockwell Scales
HRE,HRL,HRM,HRR
Initial Testing Force
10kgf 98.07N
All Testing Force
60kgf(588N),100kgf(980N),150kgf(1471N)
Indication of Hardness Value
Digital display
Duration Time
0-60S
Max. Height of Specimension
170mm
Max. depth of Specimension
165mm
Overall Dimension
520×215×700mm, L×W×H
Net Weight
65kg
Power Supply
AC220V±5%,50-60Hz
Carried Standard
GB/T230(1.2)
GB/T230(1.2)Chinese Standard
JB/T7409
JB/T7409 Inspection Rule)


(Standard Accessories)




Diameter 3.175、6.35、12.7mm Ball Indenrer,Large Testing Table,

Medium Testing Table and V-shaped Testing Table,4 pcs Hardness Blocks,Power Cable
Maintain
1. Open the machines everyday periodically.
2. Operated by the specialist.
3. Plastic rockwell hardness tester and accessories must be deposit in the dry environment.
4. After testing the accessories should be added wiping grease rust, and remove the rust great before test.
5. When the test finished, the power should be closed to avoid any accident.
Certificate



Get the latest price? We'll respond as soon as possible(within 12 hours)